Lapis Prismaticus
Share
Rainbow Inspired Sharp Edge Resin Dice
Regular price

Sale price

$60.00 USD

Unit price

per
Customize Your Crit!
Each D20 you order has a Custom Crit! You can select from a number of existing icons, type in a custom 4 letter word or even upload your own image (see here for template and file format details)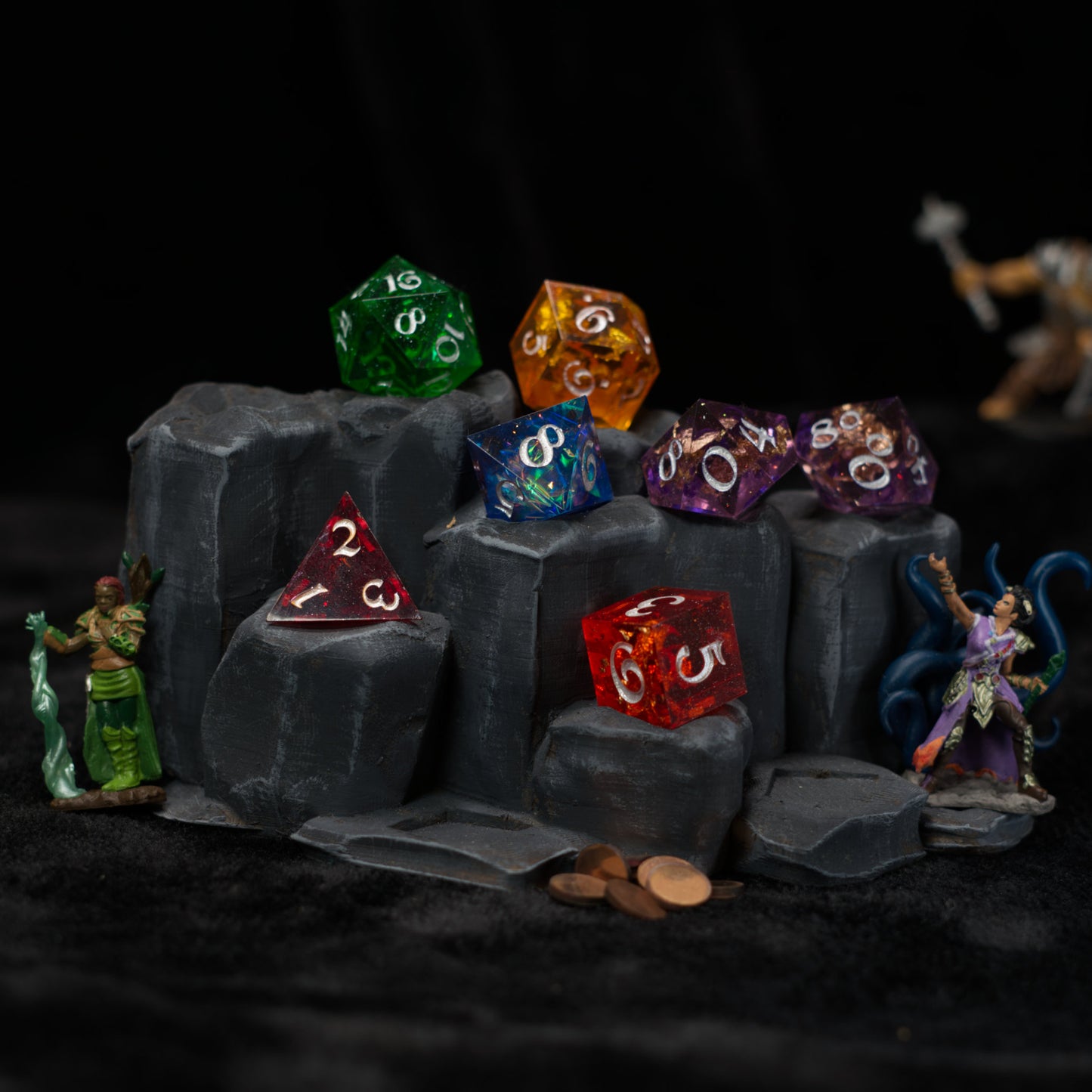 We will donate $10 from every set of Lapis Prismaticus we sell to The Trevor Project
(don't want to buy our dice, and have a spare $10 please just directly donate!)

Lapis Prismaticus are not our normal sets.. Each set of Lapis Prismaticus consists of a mix colors to make up the rainbow.  Each die in the set will randomly be  Empeorer's Reward (Purple), Leviathan's Path (Blue), Forest Rain (our new Green currently only available here), Phrygian Promise (Yellow), Fire Amber (our new Orange currently only available here) and Volcanic Onslaught (Red).  The result are an amazing set of dice to celebrate love, diversity, and acceptance.

Yes you can still customize the Crit however you like! 
The set of 7 Dice Set comes with:
1D20

 with your customized crit



SMR's unique rhombus D12 
1D%
1D10
1D8
1D6
1D4

Because these orders are a combination of multiple sets we can not guarantee which die will be which color.. Each order will have the above list of dice, and each die will be one of the 6 colors above. The D% and D10 will be the same color (what ever color that is).

We are not limiting the number of orders to current inventory here (frankly there is no way to predict inventory on an item like this) so we will fulfill orders as fast as we can as long as we can.. If we run short we will notify customers and ask if they want a refund or a backorder... 

We are picking a Leviathan's Path as the simulated D20, but realize your D20 could be any of the 6 color options... I know, maybe a little confusing and weird but we want to be super transparent.   

Frankly we hope to keep these on the store for ever, but we may have to reserve these to a limited time (TBD on that but they will be on the site for at least June 2022) 
We attempt to ship dice with in 2 to 4 business days. However, because each set of dice has 2d20 that are customized (even if you pick the "standard 20" it still goes through our process) please allow up to 2 weeks for your order to ship. If you need expedited processing please select that at check out so that we can make sure to accommodate you.