Psyche's Rend - D20
Share
Sharp Edge Resin Single Custom D20
Regular price

Sale price

$20.00 USD

Unit price

per
Customize Your Crit!
Each D20 you order has a Custom Crit! You can select from a number of existing icons, type in a custom 4 letter word or even upload your own image (see here for template and file format details)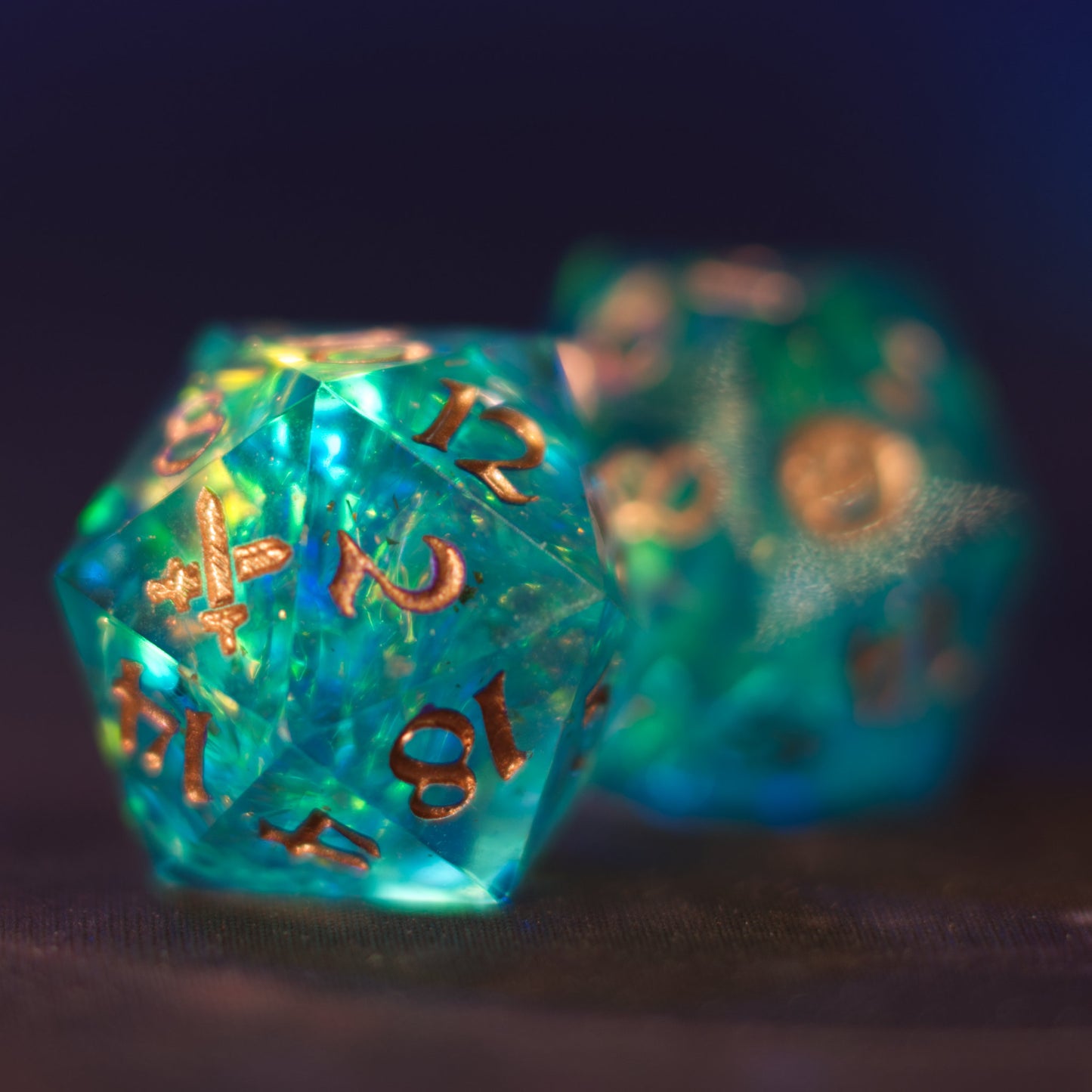 Psyche's Rend is all steam punk and aquamarine with gorgeous teal and amazing inclusions, these hand poured dice are accented by wonderful copper inked numbers.  Psyche's Rend are just breathtaking. If a set of dice deserve a chef's kiss, these are them. These are hand mixed, hand poured, hand polished, hand inked dice so each one is its own small piece of art no two dice will ever be the same!
Each D20 can be customized with a unique crit engraving. You can pick one of many pre-defined images such as a skull and cross bones or a sword to enhance your gaming experience. If our standard engravings don't meet your needs you can use your own custom text (up to 4 characters) for that personal touch or upload your own image for engraving (see details here). 
What a set? check our the full Psyche's Rend sets 
And while you are adventuring, you may need a matching notebook.  We have partnered with the binding wizards at Encanto.ink and they have created a matching notebook for these wonderful dice. 
To learn what Esimar and the Archive say about these dice check out their Archive Notes

We attempt to ship dice with in 2 to 4 business days. However, because each set of dice has 2d20 that are customized (even if you pick the "standard 20" it still goes through our process) please allow up to 2 weeks for your order to ship. If you need expedited processing please select that at check out so that we can make sure to accommodate you.