The Color of Magic
Share
One of a Kind Set of 11 Sharp Edge Resin Dice
Regular price

Sale price

$85.00 USD

Unit price

per
Customize Your Crit!
Each D20 you order has a Custom Crit! You can select from a number of existing icons, type in a custom 4 letter word or even upload your own image (see here for template and file format details)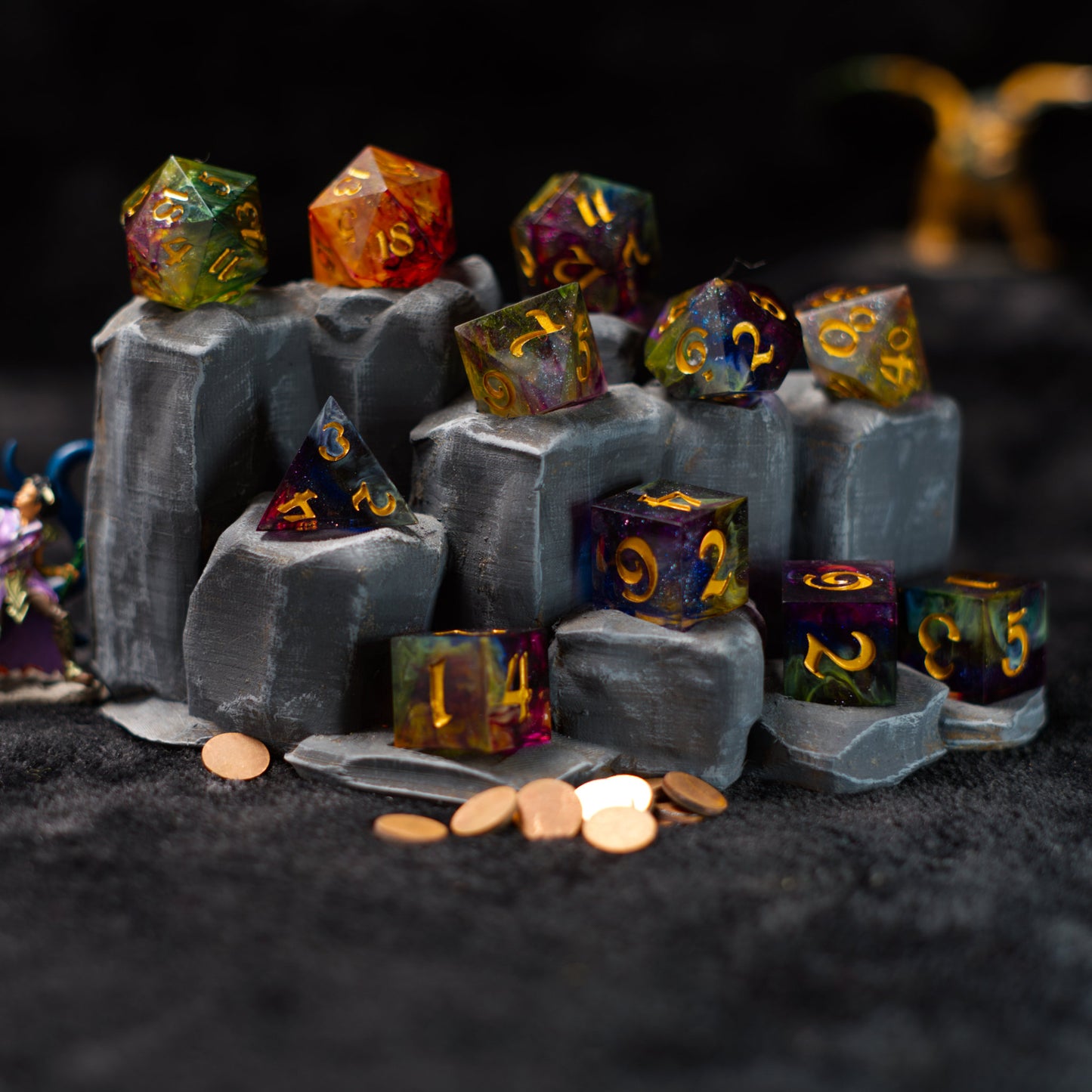 We stan Terry Pratchett in this house.  So when a set meant to honor the James Webb telescope came out looking like an Unseen University chotchke, we couldn't help it!

Inked in gold for readability. Each die is has the same inks swirled in, but some show onlye reds, while others show off the purples and blacks. 
Each D20 can be customized with a unique crit engraving. You can pick one of many pre-defined images such as a skull and cross bones or a sword to enhance your gaming experience. If our standard engravings don't meet your needs you can use your own custom text (up to 4 characters) for that personal touch or upload your own image for engraving (see details here). 

Full 11 Dice Set comes with:

2D20 with your custom crit on each die

SMR's unique rhombus D12 
1D%
1D10
1D8
4D6
1D4
Because these are one of a kind sets that we still customize with your custom crit, we are picking a Leviathan's Path as the simulated D20, but realize your D20s and its ink will be from this set
We attempt to ship dice with in 2 to 4 business days. However, because each set of dice has 2d20 that are customized (even if you pick the "standard 20" it still goes through our process) please allow up to 2 weeks for your order to ship. If you need expedited processing please select that at check out so that we can make sure to accommodate you.